Dec 12, 2016
151
151
93
21
Enderius Walkthrough.
This is a everything you'll need to know going into and defeating Enderius.
​
Part 1: Segment Guards.
Description on Encounter:

Upon entering Enderius you'll be met with 2 Beam Segments placed at the top of the skull on the left and the right. You'll also have to defeat 2 Fireball Segents which are placed on podiums on the left of the arena and on the right. Including 2 Shockwave Segments placed at the bottom of the skull on the left & right. If you're gonna focus the Beam or Fireball Segments use a bow to attack them, if you decide to focus the Shockwave Segments simply jump and attack with a sword or axe. After defeating a Segment they'll spawn a Void Enderman. Do note that Beam Segments if aggro'd deal a lot of damage and destroy armour rather quickly, also Fireball Segments knock you back and deal a lot of damage. Shockwave Segments sends a shockwave in line so if you're focusing Beam or Fireball Segments stand in the middle to avoid extra damage

.
Section 1:
Beam Segments. Beam Segments are minions that shoot a beam at you directly if aggro'd and deals damage, so make sure to only aggro 1 if you can, if you are unfortunate and aggro 2 they may instantly kill you, if hit with both Beams.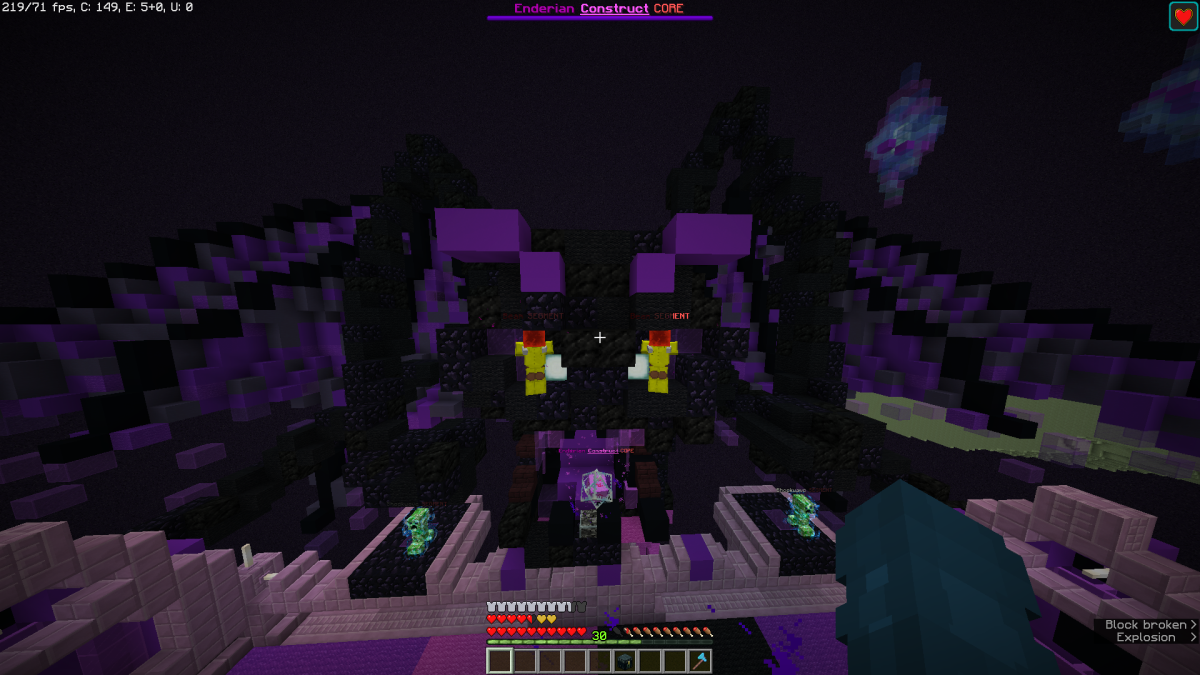 Section 2:
Fireball Segments. Fireball Segments deal knockback damage and some damage to your hearts, if you aggro one of these you'll probably survive but they can get quite annoying if both are aggro'd as they'll knock you around.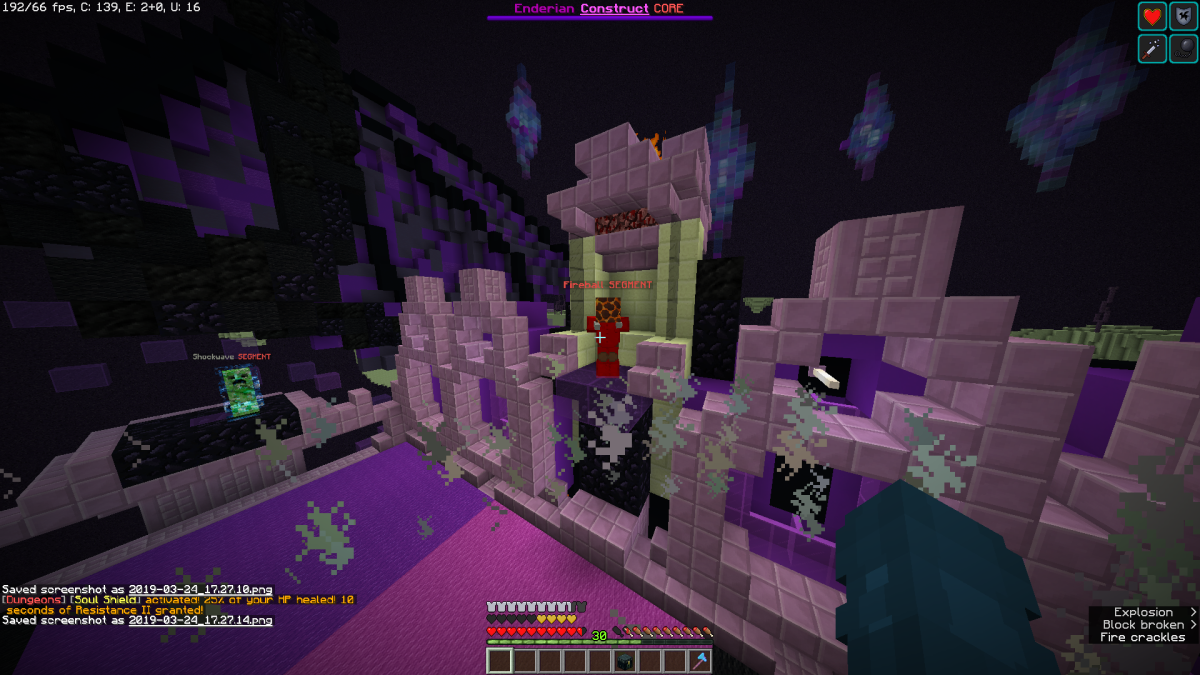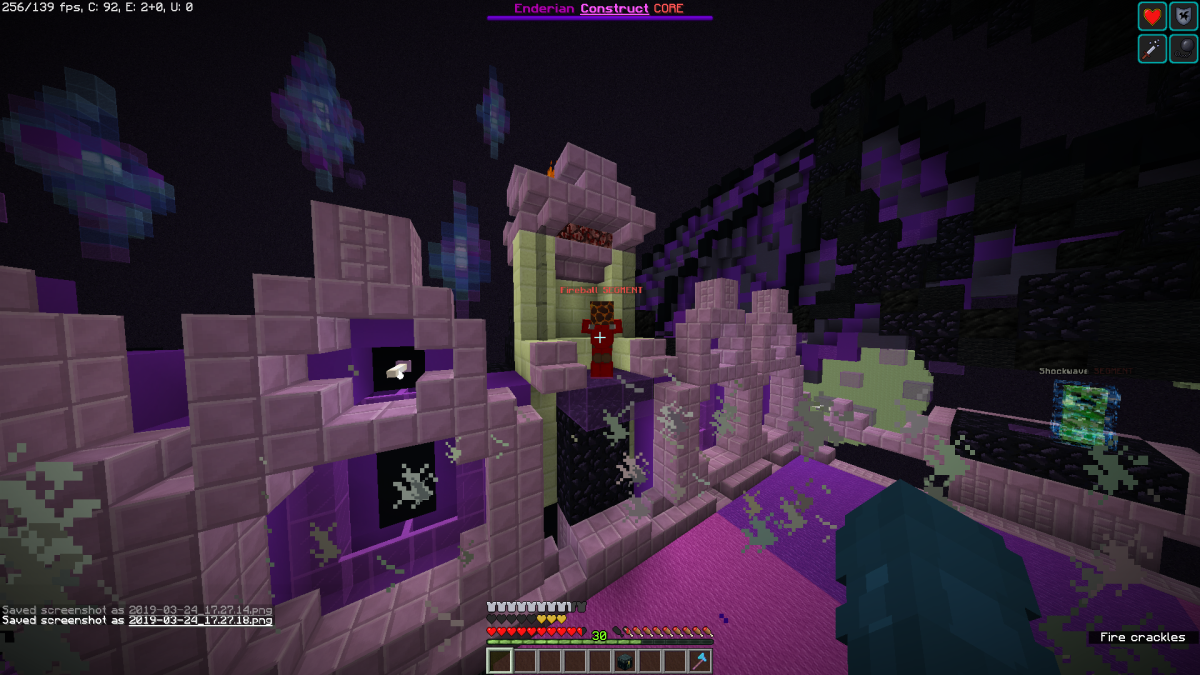 Section 3:
Shockwave Segments. Shockwave Segments sends a shockwave in a straight line accross the arena on the left & right, if you're within the line of fire it'll deal quite a bit of damage so if you're not focusing them try to avoid getting hit by it.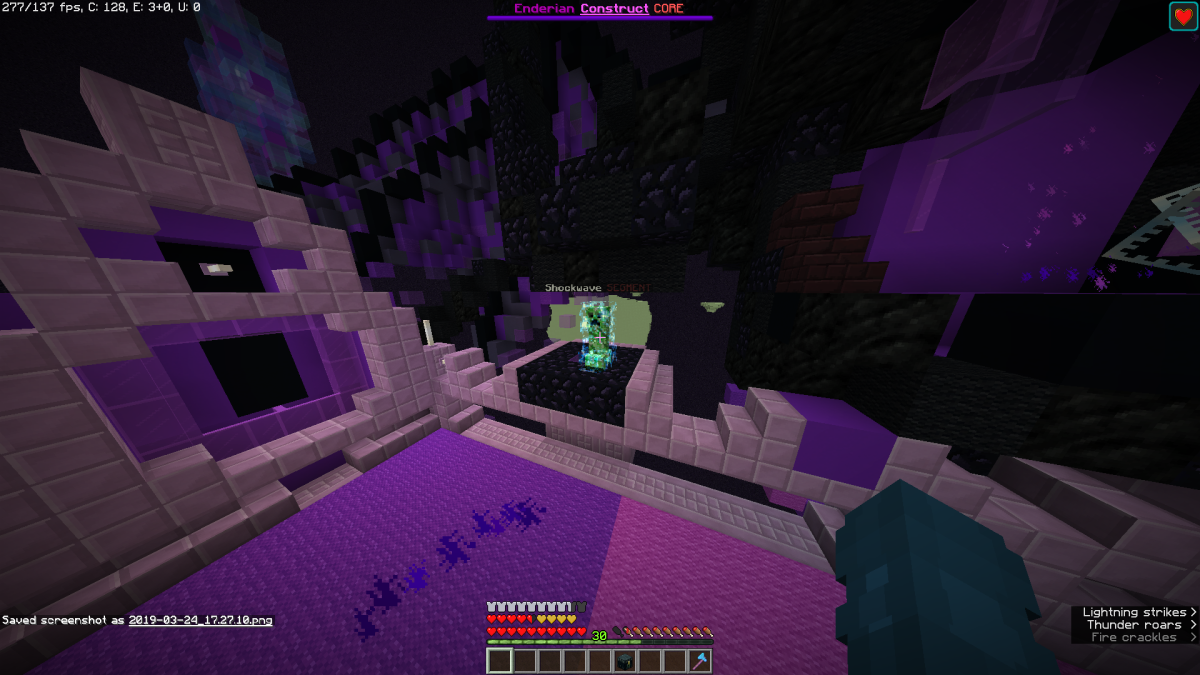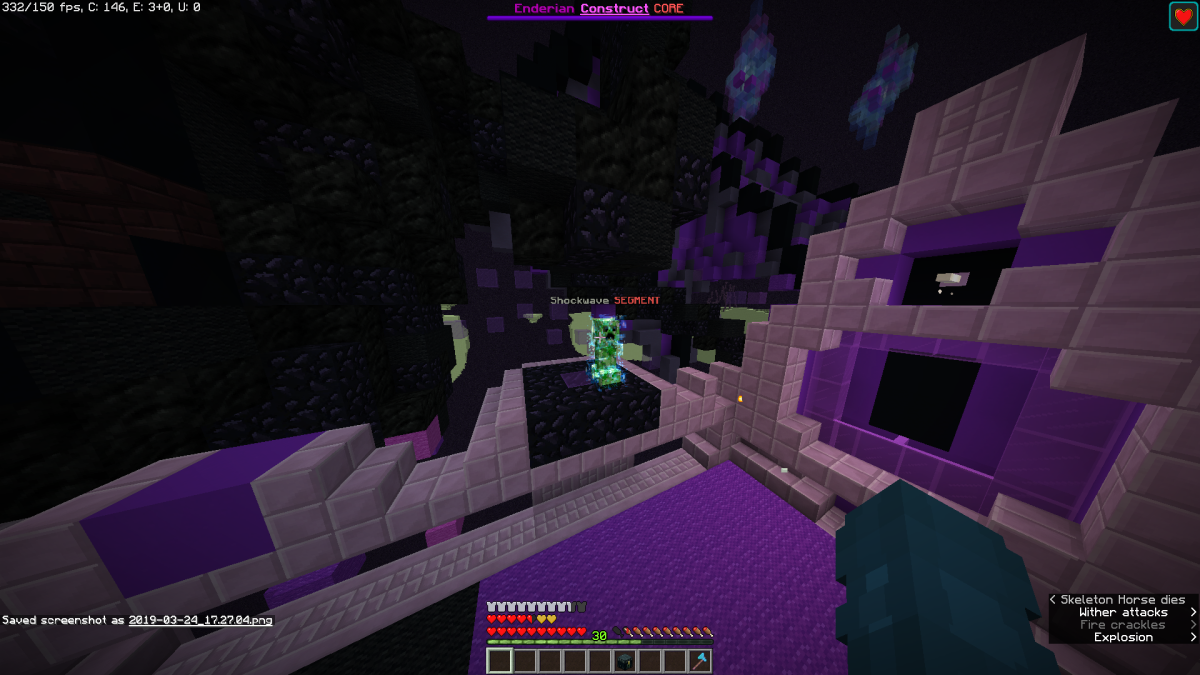 Part 2: Enderian Construct Core.
Description on Encounter:
After defeating the Segments the Core will appear in the middle, have 1 guy dedicated to taking the core away from the rest of the party and have the other party members handle Void enderman when they spawn. Every 25% health the core loses it'll spawn 3 Enderman to it's side, have the enderman aggro onto you and take them to a corner. (it makes the encounter easier if you do so). If you have not killed all enderman have the Tank aka the person who is handling the Core, ask him to not kill the Core until all Enderman are dealt with.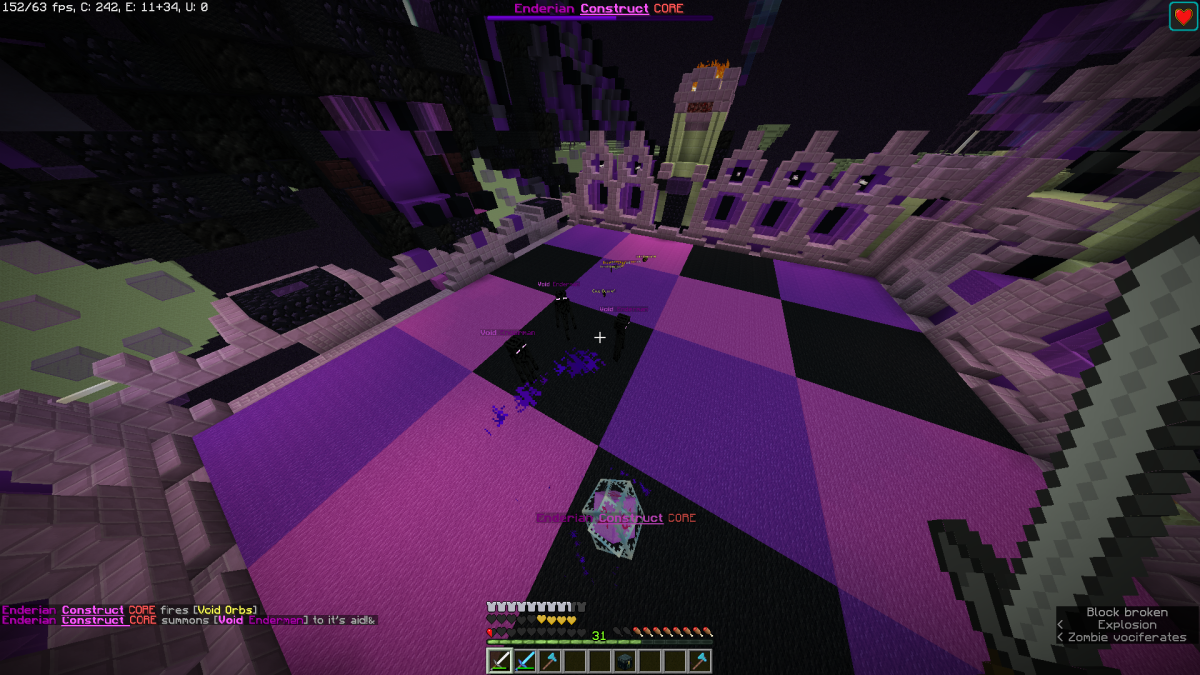 Section 1:
Void Enderman. if you're focusing the enderman you should take them into corners as it makes attacking them easier, do note that Void Enderman do not take knockback so you wont be able to push them around. Note: Void Enderman do a Skill called Void slash that deals True Damage & gives you wither. So be careful when aggroing them.
Section 2:
Enderian Construct Core, Aka Core. If you're dealing with the core, you should also take it into a corner, the core can take knockback so just push it into a corner. Make sure to move around as Void Orbs can be cast and they deal a lot of damage.
Part 3: Enderius Himself.
Description on Encounter:
After handling the Core and the Void Enderman, Enderius will start. Have the Tank stand in the middle of the arena for when Enderius spawns, after doing the tank will move him into a corner and dps people will help attack. Make sure to have 2 people sit back and deal with Void Crystals that spawn. Also have 1 person who's dedicated to bring tiles back up and calling out for the people that're focusing on attacking Enderius aka (The Switchman). if they're on a tile that's falling call it out so they can avoid dying. Tiles can only be brought up a maximum of 8 times before you need to activate Enderius and reset the tiles amount.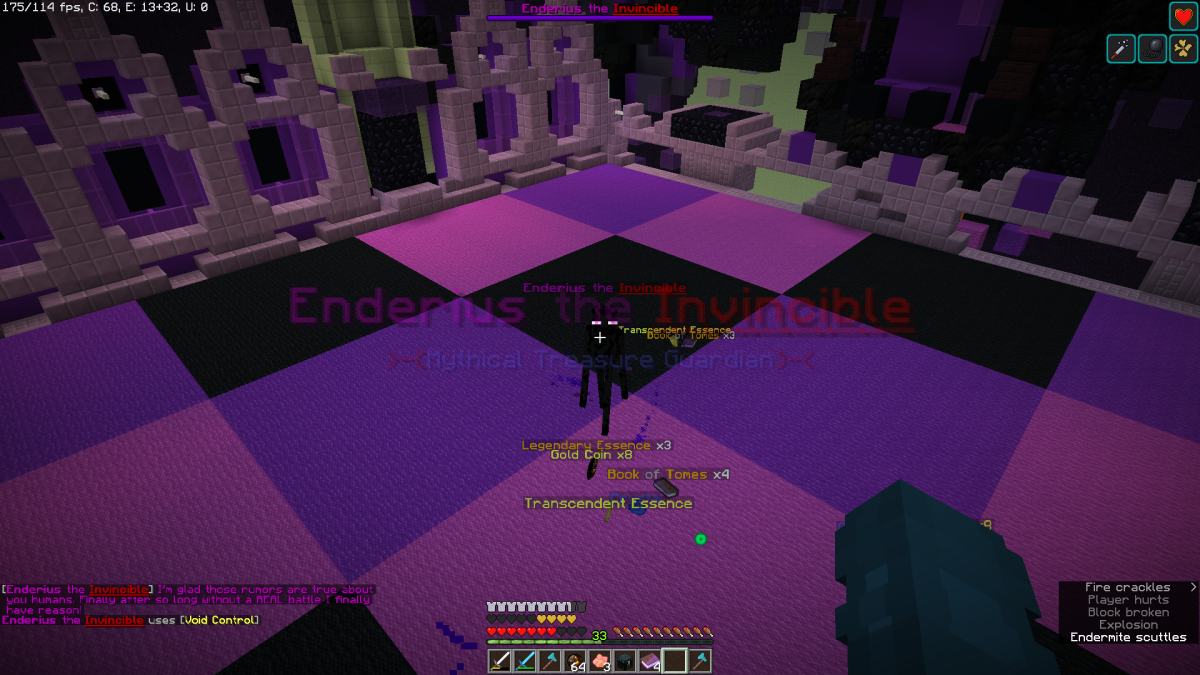 Section 1:
Tiles. During the fight with Enderius he'll casually start dropping tiles around the Arena, it starts with 3 and increases as you bring more tiles up to a maximum of 5 tiles dropping at once. Tiles have warning signs on them so watch out for the tiles that're dropping when cast.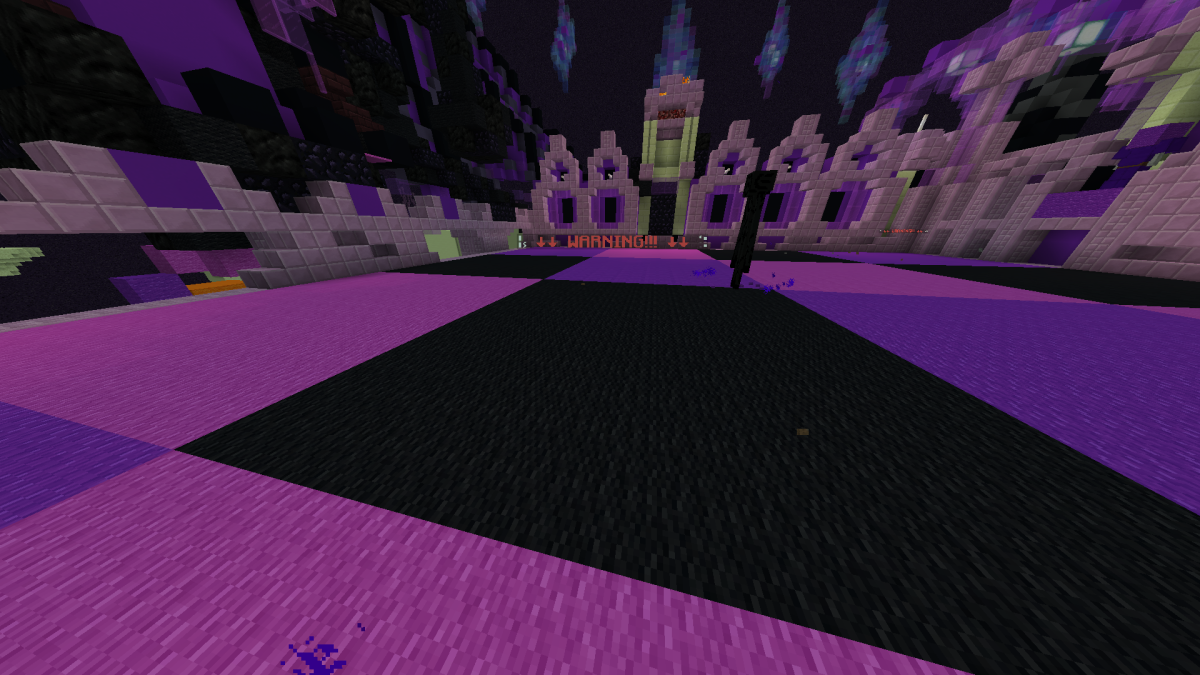 Section 2:
Enderius. If you're tanking Enderius, take him into a corner and make sure you jump consistantly so others can damage Enderius. If you're not tanking Enderius just follow him into the corner and deal as much dps as possible. Note: don't ever right click whilst crouching during this fight else Enderius will unleash an incredibly powerful attack that could lose you the battle.
Section 3:
Void Enderman. Enderius every 25% health he loses will spawn 3 Void Enderman to come to his aid. So a maximum of 9 Void Enderman will spawn during the fight. When he does so make sure you shift your focus to them otherwise the tank could die rather quickly.
Section 4:
Unstable Void Enderman. Enderius will also bring Unstable void enderman to his aid, this is priority to kill as it has a skill that when cast will explode and shoot you back. Note: Heavy boots do not counter this attack. If you're unable to kill Unstable in time put yourself into a corner so when he explodes you don't get knocked off.
Section 5:
Void Leakage. Enderius will cast an ability called Void Leakage that will leave a pool on the ground that causes AoE damage, move out of this pool whenever it's there as it's damage output is big.
Section 6:
Void Crystals. Enderius will spawn Void Crystals everytime he loses %25 Health. If they are not destroyed they'll heal Enderius, there's a maximum of 6 void crystals that will spawn.
Section 7:
Enderius's Attacks. Void Barrage. During the fight he'll cast void barrage that shoots 3 Beams at you dealing damage and gives you wither. Void Control. After dealing consistant damage he'll cast Void control that creates an explosion that deals damage giving you slowness & silence. Enderius also uses Void slash which deals true damage and gives wither.
Enderius also has Void Revenge that goes up by 1 each time the tiles are brought back. If you hit Void revenge 8 you could all die, right click to active him. When actived he uses Void Annihilation that causes a lot of damage and casts wither. (So make sure you're healed before doing so). Please note do not crouch during Enderius as it could trigger Void Annihilation before you're meant to do so.
Section 8:
SwitchMan. Switchman is 1 person who's dedicated to defeating Void Crystals and bringing tiles back that have fallen while also calling out tiles that're about to fall. There's 3 switches that correlate to the floor. Use a bow to shoot the switch you feel should be hit, when doing so it'll bring back all the tiles that switch matches.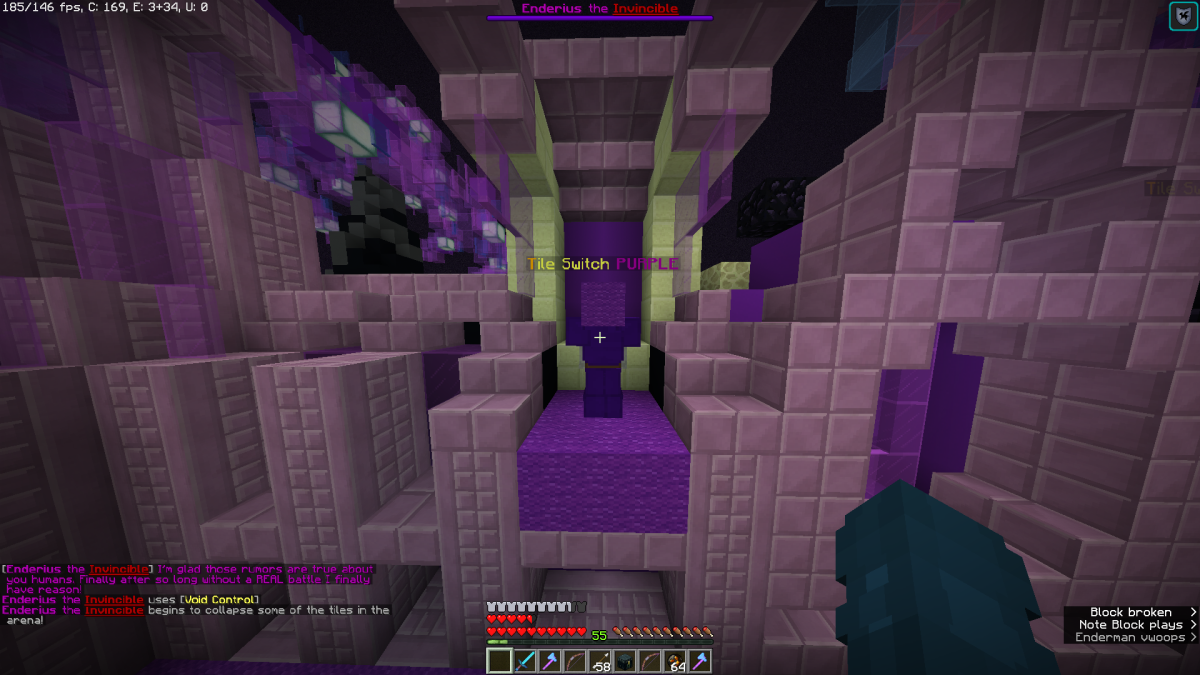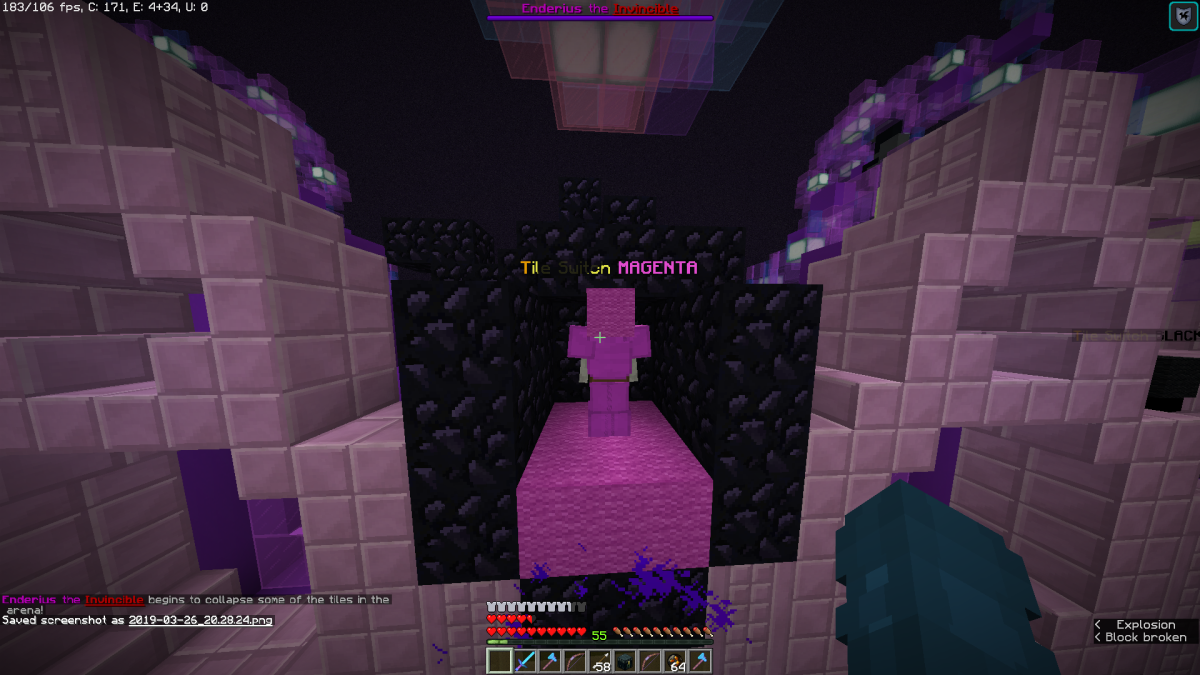 Thanks for reading. Any questions you still have please feel free to ask them here on this post and i'll answer them... For more information on Enderius checkout the wiki.
http://wiki.maestrea.com/doku.php?id=enderius_the_invincible
-Thanks to Tankdest22 for creating the wiki
-OmoTakato