You can get shards from boss mobs, voting or other events.
When crafting 8 together using /ccraft or the crafter at spawn, you recieve a relic, as shown below: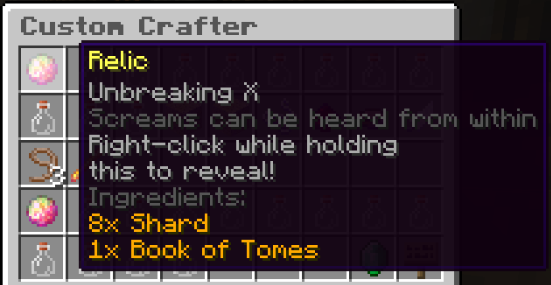 You can also craft a relic by using a Magma cream and 8 relic essence, as shown below: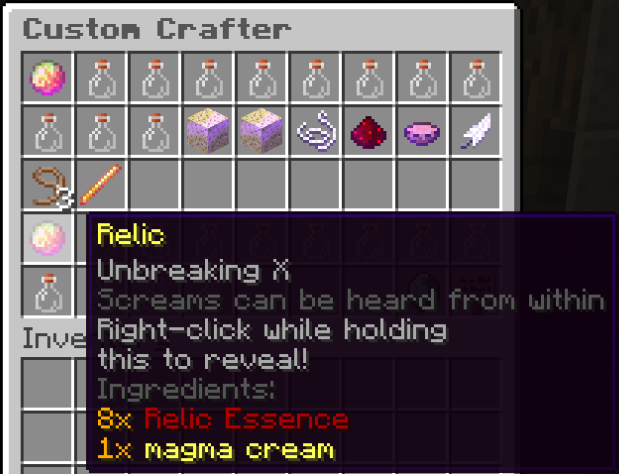 When right clicking with the Relic, you'll recieve a random relic item. These can have potions effects such as absorbtion, healing, haste, speed. you name it.
Another cool thing with these items is that you can have armor sets. so let's say a whole set of Obsidian armor(not implemented) gives absorbtion 2 but only if you have the whole set.
Custom enchants:
Custom Enchants
Template
Item:
Item name:
Lores:
Enchantments:
Potion effects:
To randomize relics we make the enchantments pick a number in a range, ex Efficiency 4-6 would give 4, 5 or 6.
Example
Code:
item: diamond spade
name: Backhoe
lores:
-Digs too fast!
Enchantments:
-Efficiency 4-6
-Durability 1-5
Potion Effects: Haste 3 when holding
All suggested items will be considered!
unrelated replies might be deleted.
Last edited by a moderator: