Administrator
Staff member
Content Member
Admin
Jul 25, 2016
771
1,039
180
21
Greetings all Maestreans!
Good morning/afternoon/evening to you all! We hope everyone has enjoyed their time playing yet another great and content filled month here at Maestrea, and can you believe it? Glad everyone has still had time to vote while duking it out against all the new and great dungeon content!
Thanks to everyone for voting and supporting the server once again this June!
1st place: DuckZuckerberg - 211 votes


Reward: $32 /buy voucher AND 3x Maestrean Keys
2nd place: Zoena - 205 votes


Reward: $24 /buy voucher AND 2x Maestrean Keys
3rd place: Remittetur & Arcanium_1 - 204 votes



Reward: $16 /buy voucher AND 1x Maestrean Keys
4th place: Mr_Blank - 189 votes


Reward: 8 Mythic keys

5th place: Hyaeren - 186 votes





Reward: 7 Mythic keys

6th place: MoMoTheEpic - 185 votes

Reward: 6 Mythic keys
7th place: lewapro - 183 votes

Reward: 5 Mythic keys
8th place: metallicat1000 & ElricTheRed- 178 votes


Reward: 4 Mythic keys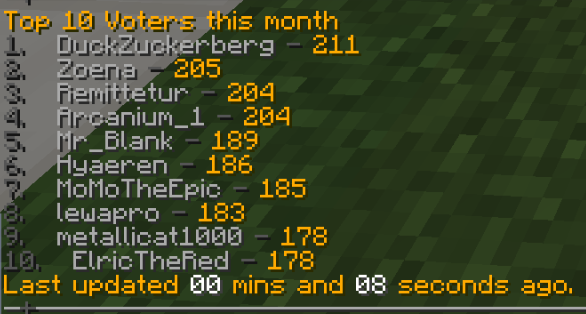 Congratulations to all the top voters and thank you for supporting the server!
All rewards will be found in your Ender Chest and if you won a coupon, check your /mail read!
(If they haven't received your coupon, please be patient! You will soon!)
All of us on the staff team would like to thank you all once again for yet another successful voting month!
Hope you enjoy Summer, and don't forget to stay awesome!
​
3