Hello, and welcome to the wonderful world of brews! This may not be Hogwarts, but we do have a lot of fun!
​
Are you interested in any of the following?
Becoming drunk!
Staggering, drunk chat, potion effects and more!
Lower quality brews giving negative effects, such as hangovers.
Learning the process of brewing with various steps
Refining your brews to make them perfect!
Becoming a brew master!
If you answered yes to any of these, you're in the right place!
What are the benefits of brewing? What is brewing?
Brewing is a fun and relaxing way to have fun with friends, especially when trying to figure out the recipe to mystery brews! It's kind-of like a spin-off on potion creation, but it involves drunkenness, slurred speech, and the partial inability to control your character. Some brews can also be beneficial, such as positive buffs that may help you with mining!
Depending on the recipe, the whole process can be difficult and time consuming. Some recipes may need high precision when it comes to ingredients or any other step in the process. If one step was not good enough, the quality of the brews may suffer, leading to negative side effects.
Depending on the recipe, some steps may not be needed (if a step is not listed in the recipe, it is not required for the brew)
Instructions for brewing:
Fermenting
Step one consists of fermenting the fresh Ingredients.
Place cauldron over a heat source (fire of some sort; usually people place netherrack & set that on fire)
Fill the cauldron with water [Click here for example of steps 1 & 2]
Add ingredients by right-clicking. **ALWAYS click the side of the cauldron when putting ingredients in. Clicking the water may place the block on top of the cauldron, or just disallow it to be placed at all.**
Wait while they ferment (Right-click the cauldron with a clock if you want to know how long the ingredients have been fermenting.)
Right-click the cauldron with glass bottles (To fill them with the brew!)
Distilling
Step two consists of distilling the brew from the cauldron. (OPTIONAL DEPENDING ON RECIPE)
Put the bottle with fermented brew into the brewing stand
Put glowstone dust as filter on top into the brewing stand (the filter will not be consumed)
Aging
Step three consists of aging the brew. (OPTIONAL DEPENDING ON RECIPE)
A barrel is needed for aging.
Small barrel
8 Wooden stairs built like this:

Place a sign on the lower right side and write "Barrel" on the first line.. "Barrel created" should appear in chat.
Large barrel
4 fence, 16 wooden stairs, 18 wood planks built like this (can be hollow inside):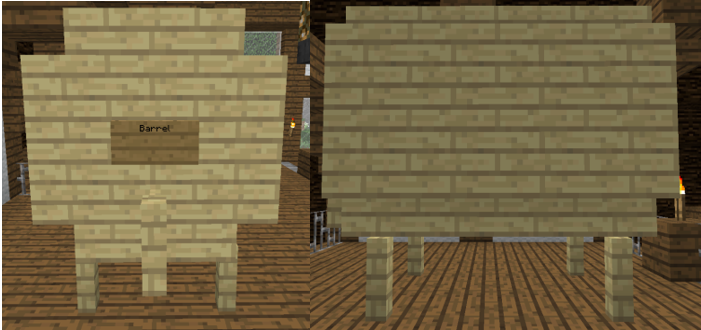 Attach a spigot (fence) and a sign that has "Barrel" written on the first line. "Barrel created" should appear in-chat. You may remove the sign from the big barrel after creating it.
(The sign
MUST REMAIN
on the small barrel though. The small barrel is opened by right-clicking on the sign, the big barrel by right-clicking anywhere on the barrel.)
Put the bottles into the barrels for aging.
Depending on the recipe the type of wood used may alter the quality of the aged brew. The barrel should not be destroyed while aging, as it would leak after a bit. When breaking the spigot, everything inside will spill out.
Drinking
The amount of alcohol inside the brew will be applied to the player when drinking. Depending on the quality of it, that may have different effects. (Check drunkenness with /brew info in-game)
You may not be able to walk normally anymore, you will weave, making it almost impossible to walk straight.. effects like Blindness, Confusion, Poison etc. can occur. The chat will be altered depending on drunkenness, many things players write may be extremely hard to understand.
If the alcohol is particularly strong, it may have poisonous effects. After drinking a lot, there is a chance of vomiting
When logging off, some logins shortly after may be denied. After overdrinking, the player may faint (Disconnect)
Getting Sober
After drinking, it takes a while to become fully sober. During that time the alcohol level is steadily decreasing. It can be decreased faster by consuming milk or bread as well.
When logging off extremely drunk, if you log back in after a while, you may find yourself at an completely random place. If you login after a few hours or the next day, you will find yourself at /home.
If the alcohol was not of best quality, you may face some bad type of hangover (slowness and hunger).
All information taken from the Brewery plugin wiki, we did not create the plugin and don't take credit for it. Click here for more information.
Bugs/Hints
If a step is missing in the recipe, it is not required (ex. No age listed = no aging required) Tea typically has no alcohol, beers a little, and spirits a lot.
Higher difficulty brews require PRECISION on ALL parts. You must cook the exact amount of ingredients the exact amount of time and age them exactly according to the recipe. A few seconds can make all the difference between a good quality brew and an excellent quality brew.
Some items must be mined with silk touch or with shears. Grass for example refers to grass clipped with shears, while a grass block refers to the actual block.
No two brews are the same, even from the same batch. As such, potions can only be sold one at a time in /auction. The length of buffs/debuffs can also differ from potion to potion, even from the same batch, so be sure to experiment!
Every brew has 3 stages of "quality" based on how strict the recipe was followed and how difficult the recipe is to create... Will you be able to brew the perfect drinks?

Please do not have anything in your offhand when you brew.
Recipes will be added/edited and removed on a regular basis, so check back often! New recipes will be posted in BOLD RED until the next batch of recipes is released. Be sure to check all the sections (regular, mystery, etc...)
*Recipes are subject to change due to bugs in the plug-in. If you have any bugs to report, or recipes to suggest, please do so in this thread only.
The original guide was created by TurbidContention, one of the original Brewmasters. This is merely just an updated version, therefore all credit within this guide shall rightfully go to him. ♥
Also, special thanks to Soap for helping me out immensely by sending me the master list of brews!
Last edited:
10

1