May 22, 2017
179
323
93
22
Town

: Bffs


Mayor

: DyrpiDyrp

If You Give a Mouse a Cookie...

He'll start asking what's new on Maestrea. To which we say, "There are these awesome posts on the forums that tell you all the updates for the week. We're pretty sure they're written by a duck, but that duck could also be a cat on the duck's laptop. Cool, right?"

Yes. Very cool. And the mouse thinks so too. But it also wants a glass of milk.

»»---------------------------------¤---------------------------------««

Main

Build Competition winners room in /tutorial has been updated, all winners are listed with the players head above their plaque
Added some words to the chat filter
6 new Relics added!​
​
Retired Relics:
Eldritch Helmet, Eldritch Plate, Eldritch Greaves, Eldritch Boots, Insanity Ingot, and Ossified Pickaxe
Resource and the End have been reset!
Resident purge complete: 3770 deleted.
Updated rule number 14 and 15 in /rules.
As an attempt to make shady not disappear once he spends his spending limit, we've added a randomized amount of stock to each item, meaning when he's out of stock of a certain item, you won't be able to buy it anymore till he either restocks (not added yet) or leaves and comes back. This is just a test and might be removed or changed depending on feedback. Stock can be found on the bottom of the item's information list.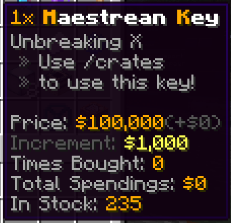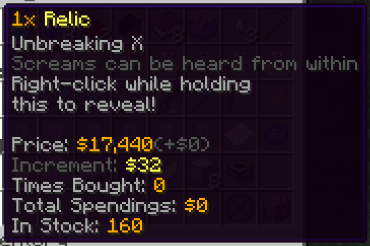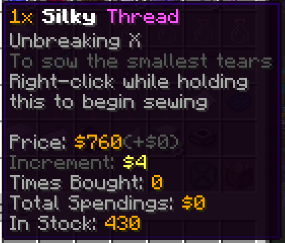 »»---------------------------------¤---------------------------------««
​
General
Banned 7,329 different temporary mail services from being used on forums as spam bots were using them.
»»---------------------------------¤---------------------------------««
Dungeons
D5
Fixed several spots where players could freely farm without engaging in combat.
[Quests] Fixed the daily quest where you kill all mobs AND the Frost Titan. You now only have to kill 3 of each regular mob and 1 Frost Titan (These were the intended amounts) instead of 5 each and 5 Frost Titans. He took quite a beating with this bug.
[Quests] Reduced amount of Frostbitten Miners to 8 instead of 10. You'll now only need 16 throughout the main quest. Frozt Mages were also reduced to 8 from 10 near the end of the quest.
[Quests] Removed unneeded conditions for using your "boosters" on carpets in D2 quests. If you still get stuck at this part, let us know.​
[Quests] Made it so you cannot leave a conversation until you reach the end of that particular string of dialog. This is to prevent confusion from players who exit early but did not receive their objectives which come at the end. (If you really, really want to, you can still spam click through, but we highly advise against it.)​
[Quests] Fixed Agent Kingston going back to the end of D1 after you finished D2.
[Quests] Fixed Agent Lauren restarting your D2 progress if you did not get the radio transmission after beating the Quest Boss.
[Quests] Changed the carpets from gray to dark blue so they're easier to see but still not super obvious.
[Quests] Added a fix for players who got stuck between D1 and D2 quests. If you are STILL unable to continue, please let us know ASAP​
[Quests] Moved Agent Lauren back to her original spot. We're guessing she wanted to get in some mountain climbing.
»»---------------------------------¤---------------------------------««
​
Important Threads

Top Voters - May 2018 IMPORTANT - Voucher Code to Celebrate the Monthly Mail! Head Museum Player of the Month May Winner! Dungeon Quests Walkthrough and Guide

»»---------------------------------¤---------------------------------««

Staff Updates

Jdrunnin

has been promoted to

Overseer


_Clippy_

has been promoted to

Mod


ToasterNote

has been promoted to

Builder

Congratulations!

»»---------------------------------¤---------------------------------««

Community Spotlight

This week's Outstanding Player is...

Ladster!

Ladster recently held a huge event with awesome prizes, showing extreme generosity. This act of kindness, or "sharing the wealth", put him at the forefront of our minds when considering who would be taking this exclusive slot this week.

If you didn't get a chance to see it, check out the details here:

Ladster's Prestige Party

But wait, there's more!
All past, present and future Outstanding Players will now receive a random reward from the box of goodies at /t spawn Dementhos. Donations are greatly appreciated (Para is a very poor duck, after all) but not required of anyone
Want to claim your prize? Just /mail send ParadiddlePride or grab me in-game and I'll help you out.
This week's challenge, as inspired by the overwhelming generousity this week, we want you to grab your favorite Maestrea-themed item (Relics, crystals, Books of tomes, any other custom item) and pass it on to a new player. Want that extra challenge? Grab as many Maestrea items as possible and give one of each away!
»»---------------------------------¤---------------------------------««
Content Team Agenda
What we're working on this week:
Mythic Mobs
: Assembling an army of new challengers
Brews
: Devouring 10 gallons of ice cream
Relics
: Preparing for Summer-Skull bashing with new items!
Relic Creation Challenge
QoL
: Checking through old Suggestion posts. Want a faster response on yours? PM ParadiddlePride#9265 on discord.
Quests
: Telling Burnt Bones why it's so hot. Progress: minimal.
Skyblock
: Taking Suggestions for Challenges
Skyblock Challenge Suggestions
Random Quote of the Week:
​
2

4